ADI participated in an exclusive program called Farm Futures Xchange (FFX) in January.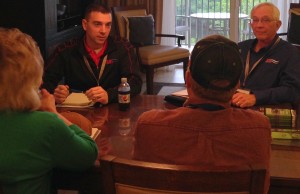 Brad Henry and Lyle Bollin participated in the prearranged meetings with agricultural producers seeking high-level information and solutions for their farming operations. A select group of about 20 companies are involved in FFX including seed, equipment and chemical businesses. ADI is the only company focused solely on providing solutions for agricultural drainage.
"Being able to sit down one-on-one with producers and discuss the latest developments in the drainage industry benefits both parties," said Brad Henry. "We get to share some of our newest services and techniques and talk about how they could be incorporated into individual operations."
ADI delivers results with the most cutting-edge farm tiling systems available on the market. Participating in FFX gives ADI the opportunity to receive high-level feedback directly from growers about what impacts and results they are experiencing in their fields. That feedback allows for evaluation and further innovation of the already modern systems in which ADI specializes.
With ADI's numerous field crews, the company is equipped to provide that state-of-the-art drainage service throughout the Midwest. It doesn't matter whether it's a 30 acre field or 1,000 acres that needs to be drained, ADI will evaluate the location and design a custom proposal to fit the producer's short and long-term goals.
"Our crews and equipment give us the ability to serve individuals on their timeline, but we still maintain the same family-owned, 'working for you' attitude we had the day we started over 30 years ago," Henry said.
FFX is presented by Farm Progress and VerticalXchange and is the only meeting of its kind in the agricultural industry.