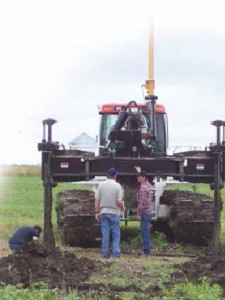 Since Don Colclasure founded ADI in 1982, he and his family have been pushing the boundaries of system drainage. ADI was a leader in introducing self-propelled drainage plows to the Midwest – making pattern tiling installation more efficient and affordable for the grower. Then using decades of experience, Don created his own custom-designed ADI Super 600 drainage plows which feature numerous upgrades to increase productivity and stability.
To improve return on investment for our customers, ADI pioneered custom drainage systems with narrow spacings and shallow depths for enhanced watertable control and improved yields. In 1995, ADI became the only drainage installer in the US to manufacture its own tile. That vertical integration ensures a steady supply of high quality pipe as well as the ability to provide a single-source warranty on the materials and workmanship of every drainage system we install.
The latest addition to ADI's tradition of innovation is the industry exclusive ADI Super 600-D with Dual Force Technology. Providing a new level of field performance and drainage affordability, Dual Force Technology is a method of simultaneously installing two lateral lines spaced 15-feet apart.
Tile drainage is an increasingly important investment for growers in the Midwest. However, drainage systems are not a one-size-fits-all-venture. It's important to make sure you are getting a modern system that meets your yield goals, soil type, budget and timeline.
10 Questions to Ask Your Drainage Contractor
Experience
1. How long has your company been installing drainage systems?
2. Will you provide design options that fit the soil type and contours of a particular field?
3. Are you experienced with dual wall installation?
Installation Methods
4. What type of equipment do you use and how does it compare to other contractors?
5. Who installs the drainage system? How much experience do your operators have?
6. Is there a waiting list for system installation? Will you provide a guaranteed installation date?
Company Practices
7. Who delivers the equipment and materials? Will they be on-time and take care of the materials?
8. What are your payment terms? Do you have any flexible payment options?
9. Does your warranty cover the materials, the installation or both?
10. Do you provide as-built maps showing the locations of installed tile? What kinds of maps are provided – print or electronic?