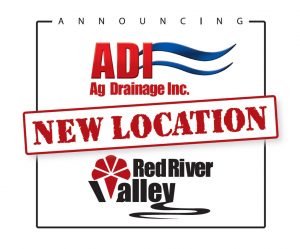 Ag Drainage, Inc. (ADI) based in Golden, Illinois is pleased to announce plans to open a new base of operations in the Red River Valley of North Dakota. Expected to open in late January, this new ADI flagship facility will be the first of its kind featuring a complete learning and informational center along with headquarters for ADI's new North Dakota Yield Team.
"This facility will be the first of its kind for our industry," states CEO, Darren Wagner. "This will be our first fully interactive location that will serve as both an operations headquarters and will offer a large meeting facility for customer and industry interaction and training. We are proud to take the lead in rewriting the narrative for the tiling and sub irrigation industry. This facility will be a big step in the right direction as we work to create a destination point for drainage professionals."
The complete announcement is expected sometime in early 2019 but initial plans will allow multiple crews to work from this base to cover the Red River Valley to the North and South.
ADI is one of the nation's premiere installers of sub surface water management systems. The company owns and operates several pipe manufacturing facilities from Northwest Iowa to Kentucky which allows ADI to offer the industry's only Resin to Outlet Warranty.