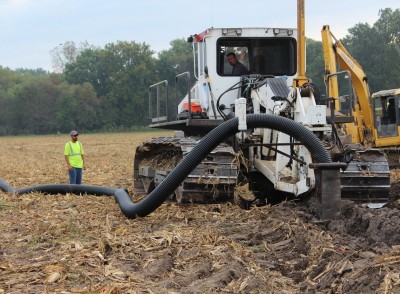 Especially this time of year, if you want to talk to Jarod Parkhill you almost have to head out to the field. Jarod is a crew leader and plow operator for ADI.
"We're working at full speed right now and will be through spring planting," Jarod said without stopping what he was doing. "Sometimes as soon as a customer is finished harvesting a field, we're moving on it to install a drainage system."
A visit with Jarod wouldn't be complete without meeting the two crew members who have worked with him the longest – Dusty Barrett and Dustin Hall – who he is quick to call the best backhoe operator and tractor driver respectively.
It doesn't take long to see that Jarod and his crew are a well-oiled machine. From Jarod confirming the next field's survey while the rest of the crew finishes up the first field to Dustin expertly loading another roll of tile on the tile cart to stay ahead of the plow, the entire operation takes teamwork.
Although Jarod's crew travels to different areas, they are dedicated primarily to Western Missouri. At the beginning of October, Jarod and his crew were working on a series of three fields near Harrisonville, Missouri. Farm owner, Brent Heid, made time during the busy harvest season to explain a little bit about why he decided to invest in drainage.
For Brent and Lone Tree Farms it started a couple years ago with a low land field that wasn't performing well. Surface drainage wasn't working, so he worked with ADI's territory sales representative Dwight Heubner to install a subsurface drainage system, and he saw the benefits right away. After seeing those immediate benefits, the operation has made a plan to install a set amount of subsurface drainage each year to improve the productivity of their land.
Both Brent and Jarod agree that this Lone Tree Farms system is a fairly straightforward pattern tiling system with a natural outlet, but that's not true for all projects. Jarod enjoys working on all types of systems, but appreciates the challenge of working on unique projects.
"Some of the more interesting projects I've worked on recently are those with water control structures and subsurface irrigation," he said. "I like the challenge of making sure the control structures are installed where they need to be and the system works the way the farmer wants it to."
Jarod has worked with ADI since November 2007. He started as a team member with a trencher crew, working most every position in the crew before being promoted to a crew leader himself.
"I had leadership experience as a construction foreman, so this was a natural fit for me," Jarod explained. "Working my way up helped me fully understand every aspect of the job."