You can now check your lift station on the go with a Remote Monitoring System for your pump. Get regular updates from your phone or tablet. Two systems are available to match your needs and style of pump.
Download the Remote Pump Monitoring options. Or for more information, Contact Us.
iOS System
The iOS system works with Apple devices (iPhone, iPod or iPad) and VFD controlled pumps. A base unit is mounted at your farm or business and is connected to your internet service. An antenna is used to receive signals from the remote unit.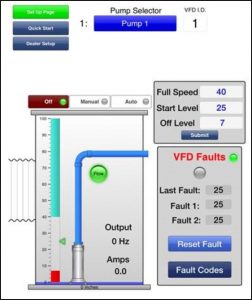 Monitoring & Control Functions:
Auto/Manual selection
Run/Stop functions
Manual speed settings
Tank water level monitoring
Fault codes
Fault reset
On/Off/Speed parameters
Output frequency
Running Amps
Communication errors
Eagle I System
This pump monitoring system allows you to connect to your pump station through simple, easy to use text messages. Eagle I can be used with nearly any cell phone and a wide variety of pumps and control systems including VFDs, Simplex, Duplex and older models.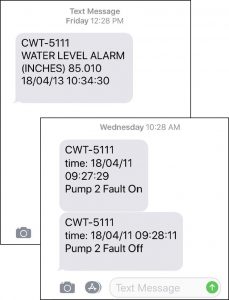 Monitoring Features:
Pump On/Off Operations
Pump Fault On/Off
Accumulated Run Time
Run Cycles
Power Loss and Restoration
Water Level Indication
Water Level Alarm Hi and Low. Programmable
Fault Reset Option
Remote/Local Mode
Pump Speed
(not all features are available with all models)